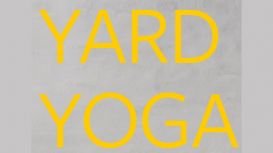 We believe our Yoga classes should be accessible for everyone and so we have created a place where you can deepen and explore your yoga practice, achieve a greater sense of wellbeing and some great health benefits from our FAR Infrared heating system.
Yard Yoga have state of the art Far-Infrared heating panels in the ceiling of our studio to heat you during your practice. The warmth that we feel from the Sun is FIR and it is a natural and safe form of energy, standing in the studio with the heaters set to room temperature feels like standing in the sunshine! FIR penetrates into the top couple of centimeters of your skin to heat your body directly, it does not heat the air surrounding you.
Because FIR penetrates into your body it warms and stimulates your connective tissues, ligaments, blood in your capillaries, fat in the layers of your skin, your immune system, your cardiovascular system and your lymphatic system.
Reviews and Ratings
We do not have any reviews about YardYoga available right now.