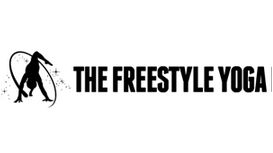 Dynamic and challenging, The Freestyle Yoga Project is geared towards encouraging students to think for themselves and investigate what's going on over the side of any particular yogic box. In fact, to also explore what's going on outside of yoga too!
Because no one style of yoga nor one physical discipline holds all the answers, and so can be potentially limiting. At FYP, we are constantly searching for new ways to move, putting together smart sequences of postures, linked by the breath, heading towards a particular end or simply enjoying a logical, progressive practice. Want to open those hips/backs/hamstrings? Want to nail that jump-thru/jump-back/handstand? It's all in the preparation. Sequence a series of postures over an hour or so that address those parts of the body that require warming and opening, then carefully attempt the desired pose. Or just move around the room and feel alive!
Equally, EVERYONE is welcome at FYP. ANYONE can do yoga.
---
Reviews and Ratings
We do not have any reviews about Freestyle Yoga Project Studio available right now.